Multi-Function 3.5 inch LCD - CCTV camera, UTP cable, PTZ tester, 1000mA power out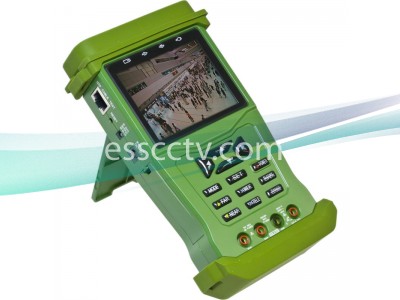 Images are for illustration purpose and may not show the actual product.
Additional Images:
Model:
CT-695
Item #:
94
MSRP:
$327.00
Our Price:
(You save: $112.00)
DC 9V / 2A power adapter included

1600mA eechargeable battery included


Digital multi-meter specs:

AC/DC Voltage : 0~300V

AC/DC Current : 400.0µA • 4000µA • 40.00mA • 400.0mA • 10A

Resistance : 400.0Ω • 4.000K • 40.00K • 400.0K • 4.000M • 40.00M

Capacitance : 4.00nF~400µF

Continuity : < 50Ω sound reminder

Video signal test
Signal mode
NTSC/PAL automaticcally select
Display
3.5" inch LTPS LCD screen, 960 × 240 resolution
Video Input
1 channel BNC
Video output
1 channel BNC
PTZ test
Communication
RS485
PTZ protocol
PELCO P/D and kinds of protocols, special protocol could be customized
Other functions
Power output
Supply 12V power to camera
Audio Test
1 channel audio signal output
Audio Test
1 channel audio signal output
UTP Cable Test
Test UTP Cable connection state and display on the screen.
RS-485 Data Test
Test the RS485 data sent from control device.
Power
Power Adapter
DC 9V / 2A
Battery
1600mAH
Digital Multi-meter
AC / DC Voltage
0~300V
AC / DC Current
400.0ľA • 4000ľA • 40.00mA • 400.0mA • 10A
Resistance
400.0Ω • 4.000K • 40.00K • 400.0K • 4.000M • 40.00M
Capacitance
4.00nF~400ľF
Continuity
< 50Ω sound reminder
Test Speed
3 seconds at a time
Other Parameters
Work Temperature
-30°C ~ +70°C
Work Humidity
30% ~ 90%
Dimension
105 × 44 × 188mm / 4.1 × 1.7 × 7.4in
There are no files associated with the selected product.